Louisville's #1 Name in Professional Graffiti Removal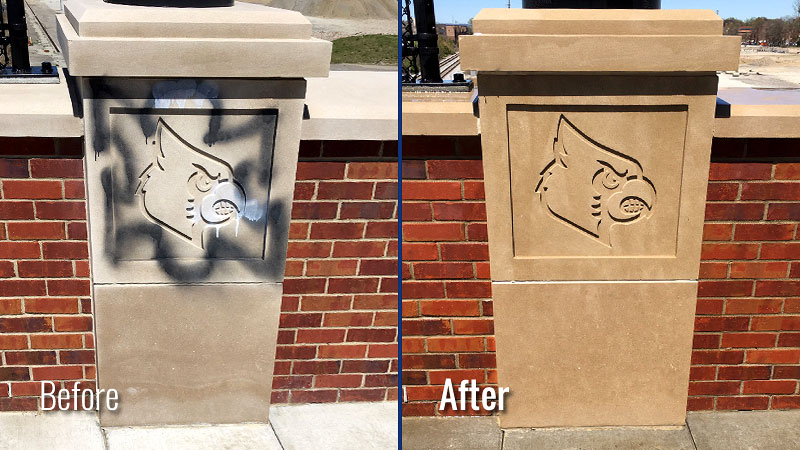 Our Mission: a Graffiti-Free Louisville
24/7/365 Graffiti Removal
Anyone who considers graffiti to be "an artistic expression" has obviously never had their place of business vandalized in such a manner. HurriClean is here to put graffiti in its place – nowhere!
Graffiti Removal
 by HurriClean is special. Our tried and true graffiti removal methods are so incredibly effective, we pledge
100% Removal
on every graffiti removal job we perform!
Stopping graffiti in its tracks plays a tremendous role in keeping Louisville looking cleaner, safer and more business-friendly.
Stopping graffiti in its tracks plays a tremendous role in keeping Louisville, KY looking cleaner, safer and more business-friendly.
100% Safe & Effective

Graffiti Removal Services in Louisville, KY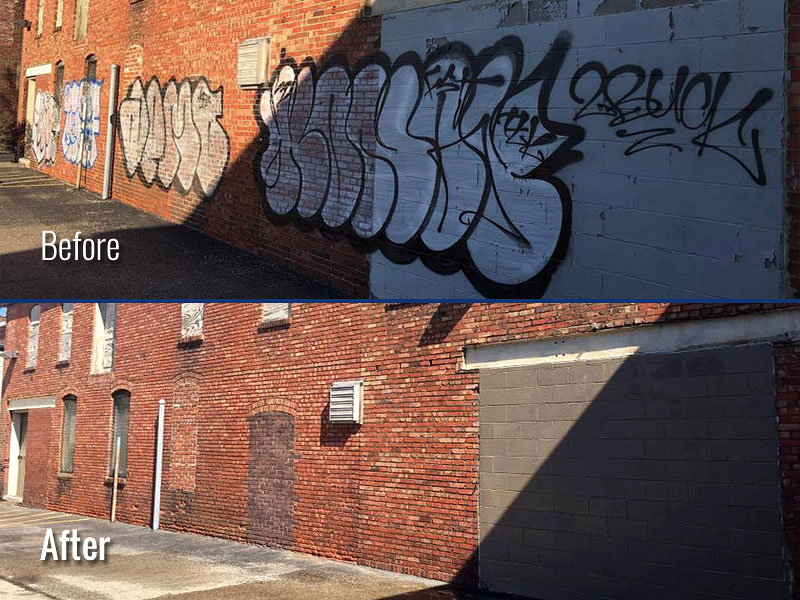 When we are hired to remove graffiti, it's because the victim of this immature and annoying crime wants their property to look exactly as it did before the unsightly graffiti occurred. That means absolutely zero trace of the spray paint will be left behind and no damage will occur to their property's surface.
"100% Effective" means COMPLETE removal of graffiti. You won't find any faint outlines or "shadows" left behind when HurriClean is on the case. The vandalized surface will be professionally restored to a "like it never even happened" condition.
No "etching" will occur as a result of our graffiti removal service. We have spent years perfecting our graffiti removal techniques to ensure that no surface damage due to excessively high pressure washing will be visible after your property's cleaning.
The Only Good Graffiti is GONE Graffiti!
Louisville's Graffiti Removal Pros
Wherever graffiti shows up, you can count on HurriClean to make it vanish as quickly as it appeared. Practically no surface is safe from graffiti vandalism, so our Graffiti Removal service has the versatility to match.
Graffiti Removal for any surface or structure:
• Building Exteriors
• Walls & Barriers
• Bridges & Underpasses
• Street Signs
• Guard Rails
• Parks & Monuments
• Public Vehicles
• Hard-To-Reach Areas
• Industrial Structures
• Rail Cars & more!
A Louisville, KY Tradition of Exterior Cleaning Excellence Since 2005
HurriClean has been Louisville's most trusted Pressure Washing Company for over a decade. We specialize in all facets of Power Washing and Soft Washing for Residential & Commercial clientele in Louisville, KY and surrounding areas of Kentucky and Indiana, including:
• Anchorage, KY
• Clarksville, IN
• Crestwood, KY
• Floyds Knobs, IN
• Goshen, KY
• Highlands, KY
• Jeffersontown, KY
• Jeffersonville, IN
• La Grange, KY
• Louisville, KY
• Middletown, KY
• Mt. Washington, KY
• New Albany, IN
• Prospect, KY
• Shelbyville, KY
• Sellersburg, IN
• St. Matthews, KY
• Taylorsville, KY
Not sure if we service your area? Feel free to contact us to find out. If we're not able to be of service to you, we'll be happy to connect you with a reputable service provider in your area.
Get a
FREE Quote

for Pressure Washing Services in the Louisville, KY Area
It's quick & easy to obtain a FREE Estimate for any of our services! Whether it's time for your regular cleaning, or if your property needs a complete overhaul, please don't hesitate to take advantage of the convenient contact methods listed below. Thank you for your interest in our services. We look forward to hearing from you!
PRIVACY POLICY: Any and all information submitted is intended for the sole use of HurriClean Exterior Cleaning & Restoration and will not be shared with any third parties without your express permission and consent.
PRIVACY POLICY: Any and all information submitted is intended for the sole use of HurriClean Exterior Cleaning & Restoration and will not be shared with any third parties without your express permission and consent.
More Great Ways to Protect & Beautify Your Louisville, KY Property:
We've been helping Louisville, KY businesses look their best since 2005. Our professional Building Washing service is just what your commercial property needs to shine!
From entrance areas and sidewalks to parking lots and parking garages, HurriClean is Louisville, KY's trusted name in fast and efficient Concrete Cleaning services.
Keeping your property's concrete and brick surfaces clean is only half the battle. To ensure their longevity and prevent cracking, Concrete Sealing is the solution that lasts!
The non-stop hustle and bustle of gas stations and other high traffic area properties calls for a heavy duty cleaning. We'll work around your schedule to serve you best!