Building Exterior Washing for Louisville, KY Businesses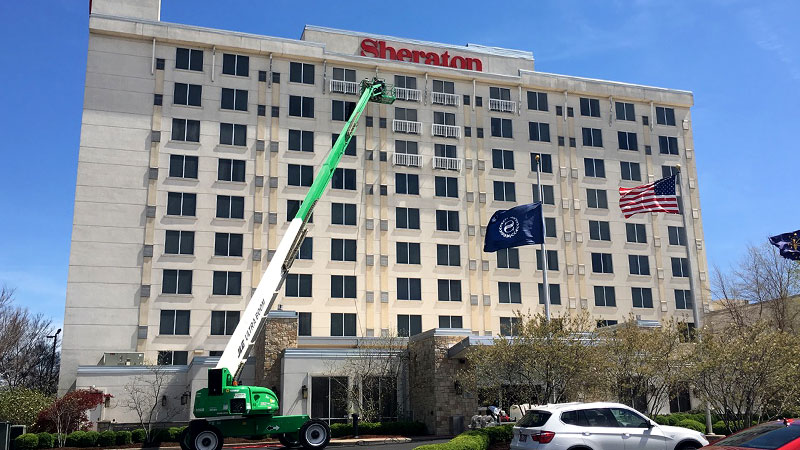 A Clean Business is Good Business
Show Off Your Louisville Pride!
Let us help you do your part to keep Louisville a beautiful city to do business in. Maintaining the clean appearance of your commercial building or facility is good for everyone!
Soft Wash

Building Washing
safely removes unsightly dirt, grime, mold, and mildew buildup – with no risk of damage to dryvit and stucco which can occur with high pressure cleaning methods.
It's the ideal cleaning method for all types of building facades, including Dryvit, Stucco, Brick, Siding, and Masonry exteriors.
Soft Wash

Building Washing is the ideal cleaning method for all types of building facades, including Dryvit, Stucco, Brick, Siding, and Masonry exteriors.
Why is Soft Washing the Best Way to Clean Your Louisville, KY Building?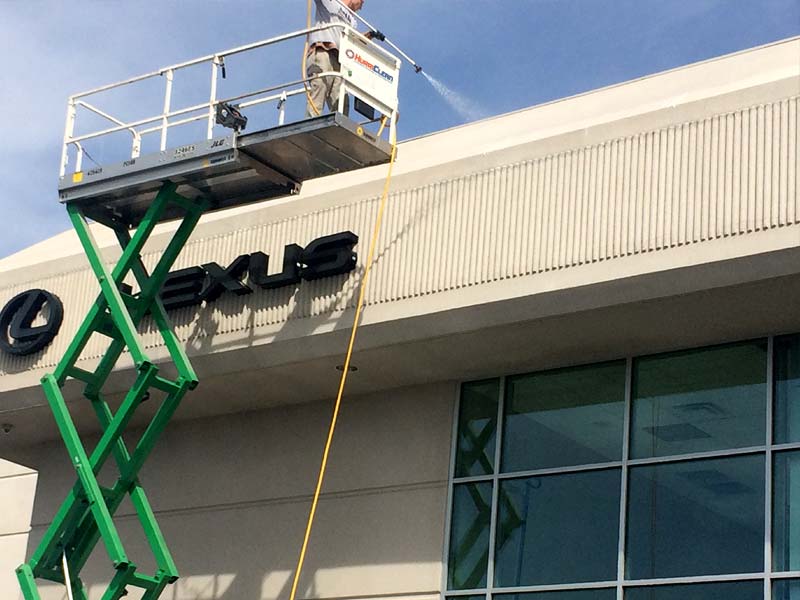 Unlike high pressure power washing, which only uses water to blast the grime off your building's exterior, our Soft Washing method utilizes specially formulated cleaning agents applied at Low Pressure to eliminate unsightly stains and discolorations at their source.
You get a more thorough building washing and a longer-lasting one, too! The algae and mold inhibitors in our Soft Washing solution delay the reappearance of unsightly algae, mold, and mildew growth on your building's exterior. This means you'll have a cleaner looking building up to four times longer than you would with traditional power washing!
And of course, "low pressure" means no risk of dryvit or stucco damage. Many Louisville, KY area business owners have found out the hard way that high pressure washing methods and delicate exteriors do not mix! Our Soft Wash Building Washing is 100% safe for all types of building facades and will not damage your property or landscaping.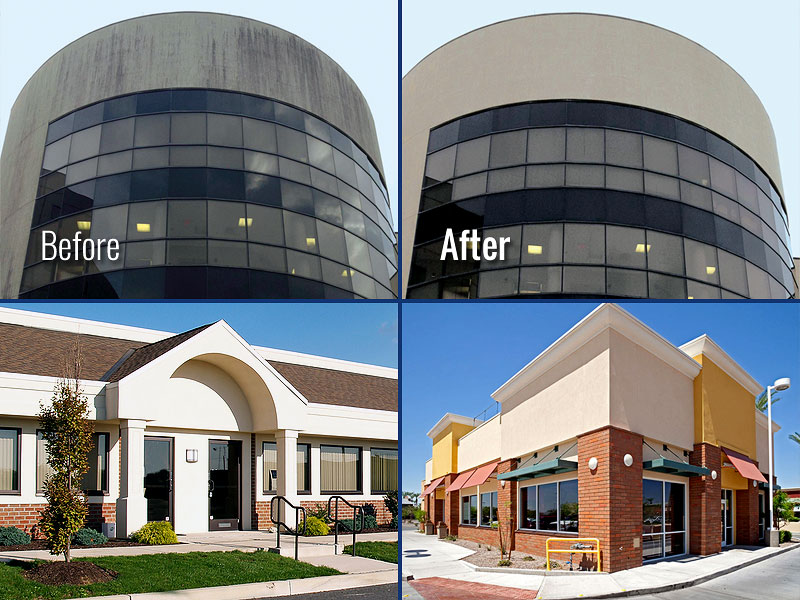 Buildings Large or Small, We Wash Them All!
Your Building Washing Experts
Commercial buildings of many shapes and sizes can benefit from HurriClean's Building Washing service. We've been keeping Louisville's low to medium rise buildings looking their best since 2005!
Building Washing is ideal for cleaning:
• Shopping Centers
• Retail Storefronts
• Shops & Boutiques
• Big Box Stores
• Restaurants & Cafes
• Gas/Service Stations
• Office Buildings
• Schools & Colleges
• Churches
• Historical Buildings
• Industrial Facilities
• Banks & more!
Ask about our ROUTINE MAINTENANCE programs!
A Louisville, KY Tradition of Exterior Cleaning Excellence Since 2005
HurriClean has been Louisville's most trusted Pressure Washing Company for over a decade. We specialize in all facets of Power Washing and Soft Washing for Residential & Commercial clientele in Louisville, KY and surrounding areas of Kentucky and Indiana, including:
• Anchorage, KY
• Clarksville, IN
• Crestwood, KY
• Floyds Knobs, IN
• Goshen, KY
• Highlands, KY
• Jeffersontown, KY
• Jeffersonville, IN
• La Grange, KY
• Louisville, KY
• Middletown, KY
• Mt. Washington, KY
• New Albany, IN
• Prospect, KY
• Shelbyville, KY
• Sellersburg, IN
• St. Matthews, KY
• Taylorsville, KY
Not sure if we service your area? Feel free to contact us to find out. If we're not able to be of service to you, we'll be happy to connect you with a reputable service provider in your area.
Get a
FREE Quote

for Pressure Washing Services in the Louisville, KY Area
It's quick & easy to obtain a FREE Estimate for any of our services! Whether it's time for your regular cleaning, or if your property needs a complete overhaul, please don't hesitate to take advantage of the convenient contact methods listed below. Thank you for your interest in our services. We look forward to hearing from you!
PRIVACY POLICY: Any and all information submitted is intended for the sole use of HurriClean Exterior Cleaning & Restoration and will not be shared with any third parties without your express permission and consent.
PRIVACY POLICY: Any and all information submitted is intended for the sole use of HurriClean Exterior Cleaning & Restoration and will not be shared with any third parties without your express permission and consent.
More Great Ways to Protect & Beautify Your Louisville, KY Property: