Concrete Power Washing for Louisville, KY Businesses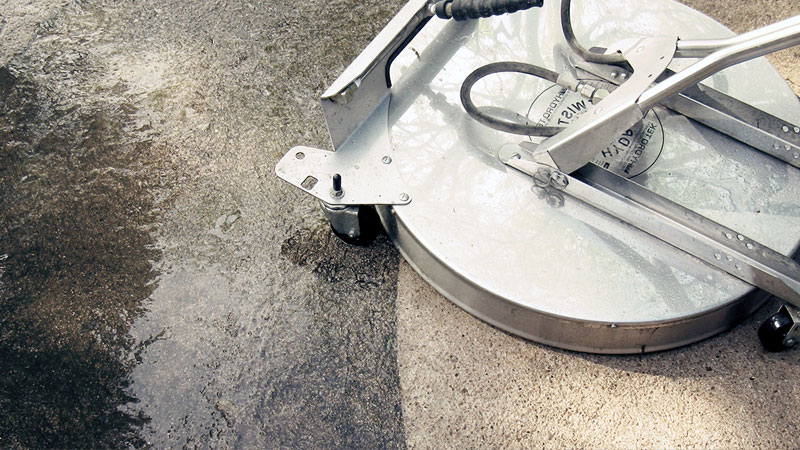 Professional Surface Cleaning
Brighten Up Your Business!
Are dirty, stained or discolored concrete surfaces making your Louisville, KY commercial property look unprofessional? Concrete Surface Cleaning services from HurriClean are the solution!
Concrete Cleaning uses high pressure hot or cold water power washing methods to deliver a deep cleaning that will get your business property back to looking its very best in almost no time!
Concrete Cleaning isn't just for concrete. Our power washing services are also ideal for your property's brick and stone surfaces.
Concrete Cleaning isn't just for concrete. Our power washing services are also ideal for your property's brick and stone surfaces.
Concrete Cleaning

is Ideal for Many Parts of Your Louisville, KY Business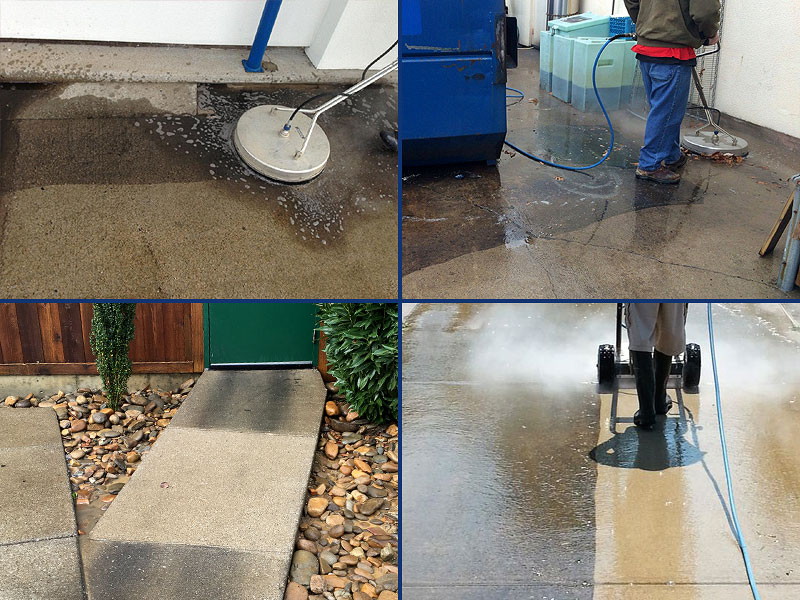 Your commercial property's concrete, brick and stone surfaces are extremely durable, but their rough and porous nature means they attract contaminants all too easily, especially in high traffic areas. This results in dirty, stained and discolored looking surfaces (potentially dangerous ones, too) that don't reflect well on your business. HurriClean can help!
• Entrance Areas
• Sidewalks/Walkways
• Parking Lots/Garages
• Curbs & Wheel Blocks
• Drive-Thru Lanes
• Dumpster Pads & more!
• Dirt, Dust & Grime
• Chewing Gum
• Oil & Grease Stains
• Food & Drink Spills
• Rust & Calcium Stains
• Tire Marks & more!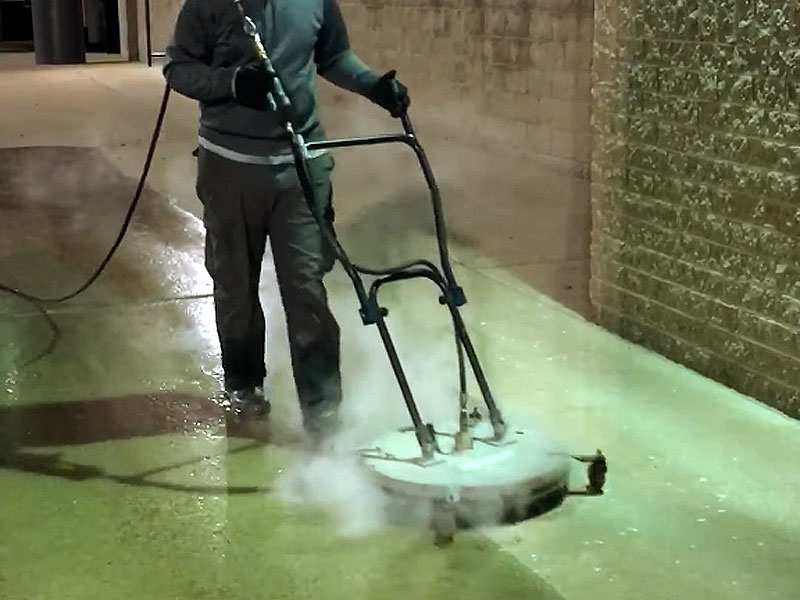 Surface-Specific Concrete Cleaning
Hot

&

Cold

Water Cleaning
Similar to other parts of your business's exterior, the concrete, brick and stone surfaces around your property require the proper kind of cleaning to achieve the best results possible.
Cold Water Concrete Cleaning works just fine for your average surface dirt and grime, but Hot Water Concrete Cleaning is required to remove more stubborn stains due to oil or grease.
Plus, we use specialized cleaning solutions in combination with high pressure power washing for stains that bind to concrete, brick or stone at a chemical level, such as rust stains, calcium stains (efflorescence), and fertilizer stains.
A Louisville, KY Tradition of Exterior Cleaning Excellence Since 2005
HurriClean has been Louisville's most trusted Pressure Washing Company for over a decade. We specialize in all facets of Power Washing and Soft Washing for Residential & Commercial clientele in Louisville, KY and surrounding areas of Kentucky and Indiana, including:
• Anchorage, KY
• Clarksville, IN
• Crestwood, KY
• Floyds Knobs, IN
• Goshen, KY
• Highlands, KY
• Jeffersontown, KY
• Jeffersonville, IN
• La Grange, KY
• Louisville, KY
• Middletown, KY
• Mt. Washington, KY
• New Albany, IN
• Prospect, KY
• Shelbyville, KY
• Sellersburg, IN
• St. Matthews, KY
• Taylorsville, KY
Not sure if we service your area? Feel free to contact us to find out. If we're not able to be of service to you, we'll be happy to connect you with a reputable service provider in your area.
Get a
FREE Quote

for Pressure Washing Services in the Louisville, KY Area
It's quick & easy to obtain a FREE Estimate for any of our services! Whether it's time for your regular cleaning, or if your property needs a complete overhaul, please don't hesitate to take advantage of the convenient contact methods listed below. Thank you for your interest in our services. We look forward to hearing from you!
PRIVACY POLICY: Any and all information submitted is intended for the sole use of HurriClean Exterior Cleaning & Restoration and will not be shared with any third parties without your express permission and consent.
PRIVACY POLICY: Any and all information submitted is intended for the sole use of HurriClean Exterior Cleaning & Restoration and will not be shared with any third parties without your express permission and consent.
More Great Ways to Protect & Beautify Your Louisville, KY Property:
We've been helping Louisville, KY businesses look their best since 2005. Our professional Building Washing service is just what your commercial property needs to shine!
If your Louisville, KY business property is the victim of unsightly graffiti, you just want it gone – fast. Our professional Graffiti Removal service is available 24/7/365!
Keeping your property's concrete and brick surfaces clean is only half the battle. To ensure their longevity and prevent cracking, Concrete Sealing is the solution that lasts!
The non-stop hustle and bustle of gas stations and other high traffic area properties calls for a heavy duty cleaning. We'll work around your schedule to serve you best!